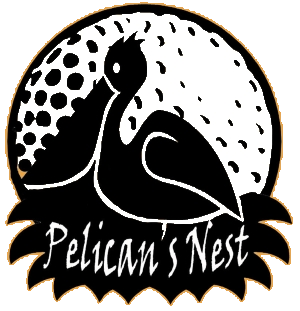 Menu Items
AT THE PELICAN'S NEST
Located at The Chief Golf Course  |  5085 Shanty Creek Rd. ~ Bellaire, MI
This Menu is available for dine in and Take out Every Day!
Soft Pretzel Bites
Served with hot bacon beer cheese
$8.95
Steamed Shrimp
Peel-and-eat steamed shrimp served with Old Bay Spice or just plain
1 pound  |   $23.95
1/2 pound  |   $16.95
Jumbo Wings

Tossed​ with your choice of Big Bang, Garlic Parmesan, Franks Honey Garlic, Caribbean Jerk, Franks Red Hot or our famous BBQ sauce
$10.95
Big Bang Shrimp
Breaded shrimp tossed with our sweet and spicy homemade Big Bang sauce
$11.95
Dressing Choices: Bleu Cheese, Ranch, Honey Mustard, Caesar, 1000 Island, French, Apple Vinaigrette, Wild Raspberry Vinaigrette, Cilantro Lime Greek Yogurt Dressing, Balsamic Vinaigrette, Vinegar and Oil or Fat-Free Italian.
Add grilled or crispy chicken to any salad  |  $4.00

Seasonal Soup of the Day or Chili
Cup  |  $4.95
Bowl  |  $6.95
Southwest Chopped Salad
$12.95
USDA ground chuck hand pressed on the grill. All Burgers served with fries and homemade coleslaw.
Build Your Own Burger or Chicken
1/2 lb  |  $12.95
1/4 lb  |  $10.95
Chicken  |  $10.95
Black and Bleu Cheese Burger
Buns
Pretzel  |  $1.00
Gluten Free  |  $1.50
All sandwiches are served with fries and homemade coleslaw.
Chicken Brie Pecan Sandwich
Honey Mustard Chicken Sandwich
All baskets are served with fries and homemade coleslaw.
Substitute to your Basket:  Sweet Potato Fries, Onion Rings,  or Green Beans for French Fries  |  $2.00
Side House or Caesar Salad for Coleslaw  |  $2.50 -Extra Sauce .50 Each
Served with your choice of two sides:  Baked Potato, French Fries, Sweet Potato Fries, Homemade Coleslaw, Green Beans, or our House Salad
Jumbo Shrimp
1/2 lb  |  $19.95
1 lb  |  $28.95
New York or Old World Style Brick Oven Pizza