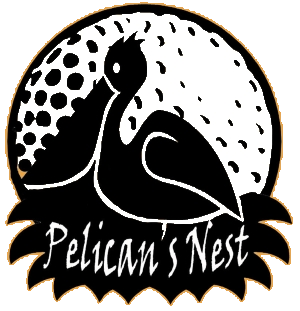 Menu Items
AT THE PELICAN'S NEST
Please view the limited menu on our home page available for take out/curb side pick up and delivery
Located at The Chief Golf Course  |  5085 Shanty Creek Rd. ~ Bellaire, MI
SUNDAYS
The Kitchen is Closed
MONDAYS-THURSDAYS
The Kitchen is Closed Monday
Open Tues-Thurs 4-8
FRIDAYS
The  Kitchen is Open From 4-8
 SATURDAYS
The  kitchen Open 4-8
Please see our limited Menu on our home page 
Trash Can Nachos
Layers of chips, homemade con queso cheese, shredded cheddar cheese, black beans, tomatoes, onions, jalapenos, and black olives.  BBQ pulled  pork. Garnished with chopped lettuce and served with sour cream and salsa.
Full Order  |  $15.95
Soft Pretzel Bites
Served with hot bacon beer cheese
$8.99
Seared Ahi Tuna
Lightly blackened, served with soy sauce, toasted sesame seed oil, pickled ginger, and wasabi sauce
$13.95
Steamed Shrimp
Peel-and-eat steamed shrimp served with Old Bay Spice or just plain
1 pound  |   $23.95
1/2 pound  |   $16.95
Chips and Pico De Gallo

$5.95
Jumbo Wings

Tossed​ with your choice of Big Bang, Garlic Parmesan, Franks Honey Garlic, Caribbean Jerk, Franks Red Hot or our famous BBQ sauce
$9.95
Big Bang Shrimp
Breaded shrimp tossed with our sweet and spicy homemade Big Bang sauce
$11.95
Blue Mussels
One full pound steamed in white wine with onions, mushrooms, tomatoes, and garlic. Finishe doff with bitter and served with bread.
$14.95
Cowboy Poppers 
Midwest Sweet Corn, Jalepenos, Cream cheese and bacon, lightly fried. 
$11.95
Dressing Choices: Bleu Cheese, Ranch, Honey Mustard, Caesar, 1000 Island, French, Apple Vinaigrette, Wild Raspberry Vinaigrette, Cilantro Lime Greek Yogurt Dressing, Balsamic Vinaigrette, Vinegar and Oil or Fat-Free Italian.
Add grilled or crispy chicken to any salad  |  $3.00
Add grilled or steamed shrimp or grilled salmon to any salad  |  $5.95
Seasonal Soup of the Day or Chili
Cup  |  $4.95
Bowl  |  $5.95
Southwest Chopped Salad
$12.95
USDA ground chuck hand pressed on the grill. All Burgers served with fries and homemade coleslaw.
Substitute to your Burger:  Sweet Potato Fries, Onion Rings, Red Beans and Rice, Baked Potato, or Green Beans  |  $2.00
Side House or Caesar Salad for Coleslaw  |  $1.00
Build Your Own Burger or Chicken
1/2 lb  |  $12.95
1/4 lb  |  $10.95
Chicken  |  $10.95
Black and Bleu Cheese Burger
Buns
Pretzel  |  $0.75
Gluten Free  |  $1.00
All sandwiches are served with fries and homemade coleslaw.
Chicken Brie Pecan Sandwich
Honey Mustard Chicken Sandwich
California Chicken Sandwich
All baskets are served with fries and homemade coleslaw.
Substitute to your Basket:  Sweet Potato Fries, Onion Rings, Red Beans and Rice, Baked Potato or Green Beans for French Fries  |  $2.00
Side House or Caesar Salad for Coleslaw  |  $1.50
ENTREES Dinner Begins at 4pm Daily 
Served with your choice of two sides:  Baked Potato, French Fries, Sweet Potato Fries, Homemade Coleslaw, Green Beans, Red Beans and Rice, or our House Salad
Jerk Seasoned Snapper 
$18.95
Jumbo Shrimp
1/2 lb  |  $19.95
1 lb  |  $28.95
New York or Old World Style Brick Oven Pizza